Heather Rocks
Heather Nova Rocks!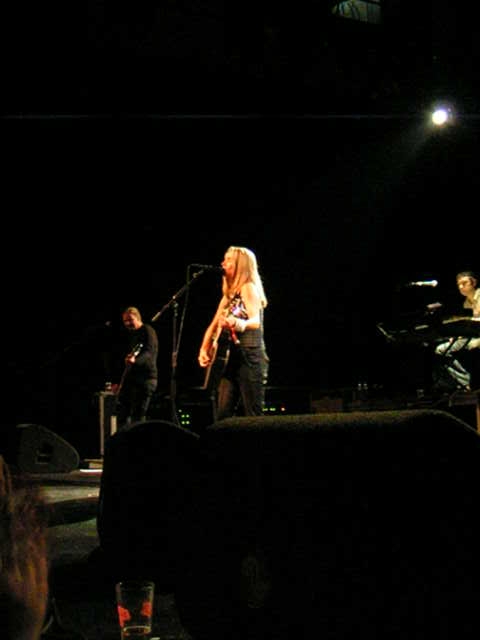 Picture of Heather Nova on stage in The Hague on August 2, taken by Cynthia Fridsma

--- Written by Cynthia Fridsma ----
The Hague, August 2, 2006.

The doors of the 'Paard van Troje', the place where Heather would do a performance opened at 7:30. Pm. and we went in. The supporting act by SneakerFreak started at 8:30. Pm. until 9:00. Pm. and was disappointing; mostly caused by a bad sound: the bass was too loud and the sound itself was distorted.

Please, no smoking
I think that this was the main reason why it took half an hour before Heather hit the stage, because the crew did a lot of sound checks. And before Heather enters the stage, one of the crew members took the microphone and requested politely, on behalf of Heather Nova, not to smoke during the concert. He was afraid that lots' of people would have shouted 'boo', but that was not so. In fact, everyone welcomed Heather's request with an applause.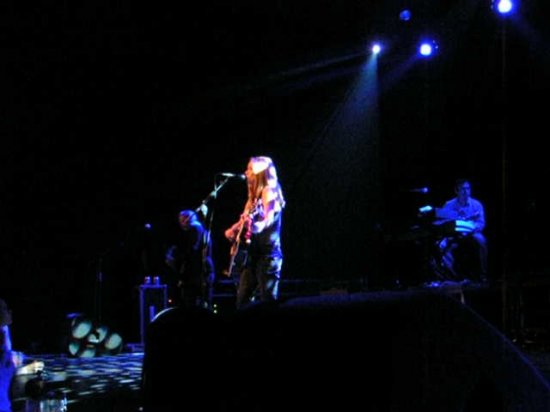 Heather Nova, Picture taken by Cynthia Fridsma

I miss the sky
Before Heather started with, I miss the sky, she explained to the audience that she received a letter the other day from a pilot who feels related to her (referring to Emilia Earhart - a female pilot who was lost on June 17, 1937 during a flight over the South Pacific. More information can be found at http://www.ellensplace.net/ae_lflt.html ) and started to play the song. I miss the sky can be found on the Redbird album.
Click here to download the introduction by Heather Nova in mp3 sound format

Whistles along with me
Heather did two acoustic acts too, without the band. First with the song Spirit in you (Glowstars) and then Every time (Storm). Heather introduced Everytime as follows "I called my friend and I said can you put some guitar on this song down for me and he said, sure. Just hang up the phone and you just call back and sing it on the answering machine so I can learn it before I come over, so I did. He showed up the next day and played this beautiful guitar over it and it was nice. This is called 'Everytime'. There's some whistling in the song and I really appreciate it if everyone whistles along with me because it is really hard to whistle. You pick it up, it's a really simple melody." Some people in the audience really whistle along with Heather, which was very nice indeed!

Click here to download this introduction by Heather Nova in mp3 sound format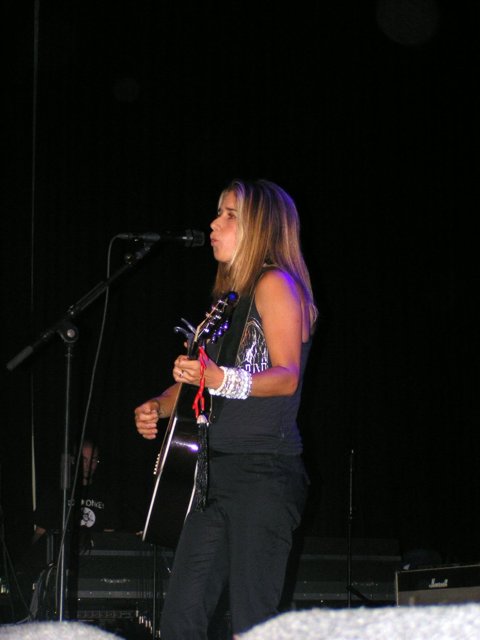 Heather Nova, picture taken by Cynthia Fridsma (everytime)

Island
Than we were rewarded with a good-looking Heather Nova on stage who started to play"Maybe an Angel" and her voice was as beautiful as always. Her golden voice, specially when she started with 'Island' - a song that you can find on the Oyster album - stole the hearts of the audience. I admit, Island is one of my favorites, but I am sure that I'm not the only one.

It was raining cats and dogs
One song in particular catch my attention and that was London Rain. Not only because this is a great song - a song you can find on the Siren album - but also because of the weather. Yes.... it was raining cats and dogs during the day, although the first three ½ weeks of July were full of sunshine in the Netherlands.

She really rocks
Heather also proofed again that she's a woman of many talents because she can also rock! Something that she proofed with a special rock version of the song 'Blue Black' and that was not on the set list I found out later after I took a picture of it and she really rocks with "Sugar," which was also the last song....

Bring the elephant back
Did you know that Heather is the ambassador for the 'Bring the Elephant back' campaign, founded by a Dutch girl named Antoinette van de Water.

Before Heather started with 'Drink it in' she said: "Before we go any further I can only tell you that we have the people here tonight from the 'bring the Elephant home' foundation which is a really wonderful charity that I support and that a Dutch woman Antoinette started on her own mission to go to Thailand. She rescued three elephants to get them back to nature which is a good thing so please make a donation on your way out for this foundation."

Songs
Maybe an angel, Heart and shoulder, Motherland, Redbird, I wanna be your light, Walk this world, I miss the sky, Spirit in you, Everytime, Done Drifting, London Rain, Island, All I need, Just been Born, Make you mine, Drink it in, Fool for you, Blue Black, Sugar

The band
Heather Nova: Vocals, Guitar. Berit Fridahl: Guitar, Laurie Jenkins: Drums. Matt Round: Bass and Simon Stafford: Keyboard & guitars